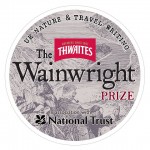 There were six books on the short list for the Thwaites Wainwright Prize, which John Lewis-Stempel won last week for Meadowland (Transworld), his "love letter" to a hay meadow he works and watches on the border between England and Wales. Now, courtesy of the prize organisers, Deskbound Traveller is offering you the chance to win all six.
The prize, now in its second year, was set up by Frances Lincoln, publisher of the walker Alfred Wainwright's books, and the Wainwright Society, in association with the National Trust, and is sponsored by Thwaites, the brewer. The idea is that the winning book, like Wainwright's works, should both inspire people to explore the landscape and engender respect for nature.
The other books shortlisted this year were:
Running Free: A runner's journey back to nature by Richard Askwith (Vintage/Yellow Jersey Press), in which he combines his passions for off-pavement running  and the rural way of life;
The Moor by William Atkins (Faber and Faber), an account of the place of the blasted heath in literature, history and the national psyche;
Claxton: Field Notes from a Small Planet by Mark Cocker (Vintage), a year-long chronicling of the infinite variety to be found in one Norfolk village;
H is for Hawk by Helen Macdonald (Vintage), whose story of how she dealt with grief by training a goshawk has won her both the Costa Book of the Year award and the Samuel Johnson Prize for Non-Fiction;
and Rising Ground: A Search for the Spirit of Place by Philip Marsden (Granta), whose move to a remote farmhouse in Cornwall prompted a journey through the myth-laden South-West.
To be in with a chance of winning the books, just follow twitter.com/deskboundtravel.
Terms and conditions
Entrants must follow @deskboundtravel on Twitter by midnight on May 4, 2015. Only one copy of each of the six short-listed titles is available to the winner, who must be resident in the United Kingdom. The winner will be selected at random and notified by midnight on May 11, 2015. Unsuccessful entrants will not be contacted. For more information about the Thwaites Wainwright Prize, please see the organisers' website.