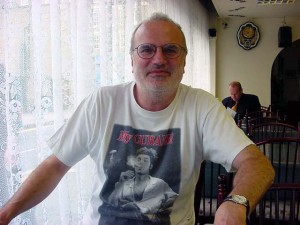 Michael Jacobs had plenty still to write. When we spoke on the phone about three weeks ago he was back in his beloved Andalusian village of Frailes and hoping to find the time to finish his current project, a book inspired by Velázquez's Las Meninas, that painting in which reality meets illusion.
I mentioned that I was reading and hugely impressed by The Beast, Óscar Martínez's account of the hellish journey made by Central American migrants seeking a better life in el norte. Michael had already read it (and was equally impressed), but then he had read everything that was worth reading on Spain and Latin America. He said, not for the first time, that he longed to write a book about Martínez's country, El Salvador.
But his time and energy were running out. He had been diagnosed on September 26 with cancer, which had spread from his kidneys. In between his sessions for pain relief at a hospice in London, he and his partner of many years, Jackie Rae, had married in Hackney Town Hall. During that phone call, he told me that the following day he was due to see a faith healer, and added, with a chuckle, that "there'll be a procedure involving lots of water". I knew then that he didn't have long left. Last Saturday I got a message from a mutual friend in Spain saying that Michael had died. He was 61.
This was a man who had survived being held prisoner by guerrillas in Colombia; who could be out dancing till the early hours in the bars of Cartagena and then at his desk while others were still nursing their hangovers. It seemed scarcely credible that what had started a few months earlier as "terrible back pain" had seen him off.
Michael Jacobs had already embarked on what might be called his "Latin American period" when I met him about eight years ago. An art historian by education, he had established his reputation as an authority on Spain and an interpreter of the country to the English-speaking world, first with scholarly guidebooks to Barcelona, Madrid and Andalusia, and then with The Factory of Light, his playful chronicle of life in Frailes.
Fiction, family ties and the journals of New World explorers took him to the rest of el mundo hispánico. Long before he set foot in it, he had fallen in love with Latin America through the novels of Gabriel García Márquez and Mario Vargas Llosa, the memoirs of Guillermo Cabrera Infante and the "personal narratives" of Alexander von Humboldt (with whom he shared what he described as "a constant wonder in the face of nature").
His discovery of a batch of letters in an attic led to Ghost Train through the Andes, a recreation of the journey his grandfather had made in Victorian days as an engineer on a railway running from the port of Antofagasta, in Chile, to La Paz, the capital of Bolivia. That was followed by Andes, an ambitious but not wholly successful attempt to get the measure of South America by travelling the length of the mountain range.
Then came The Robber of Memories, for me his best book about the region. The robber is a figure from myth in Colombia who is said to arrive on horseback by night. The phrase also makes for a graphic description of dementia, which afflicted Michael's mother as he set off to travel the length of the country's longest river, the Magdalena. Memoir, travelogue and current affairs were woven seamlessly together in a book that exemplified his belief in "travel literature as a poetic transformation of reality".
Michael was a demanding critic, but unstinting with praise when he felt it was merited. He could be withering about travel writers in general who parachuted on to his patch, and said he would "rather die of poverty" than reinforce some of the stereotypes they regurgitated, among them the notion that "the real Spain is Andalusia" or that the country as a whole is fundamentally Moorish. He had no time for mysticism, and found duende "a particularly irritating concept". He was gentler with his fellow scribblers as individuals, generous with tips, reading suggestions and contacts.
A couple of years ago I was researching a piece about Segovia, venue for a forthcoming Hay Festival. I found plenty of material about the poet Antonio Machado (adopted there as a literary son) but little on contemporary writers with any ties to the place. Fearful I might be overlooking some giant, I emailed Michael to pick his brains. The response was swift: "Though most of Spain's famous writers have passed through the town," he said, "they have mainly done so to eat suckling pig."
Michael was a champion of narrative travel writing and an enthusiastic supporter of this website, which is one reason why there is an extract here from The Robber of Memories. Read that, if you haven't already, then follow the links below to let him direct you to some of his favourite books from the Spanish-speaking world:
books about Colombia
novels and memoirs from Latin America.