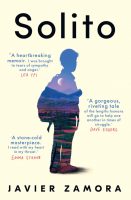 I've been reading great things from reviewers in the United States about Solito, in which the Salvadoran poet Javier Zamora recreates the journey he made at the age of nine over land and sea to join his parents in California. His parents had emigrated to the US before he turned five, and he had been living with his grandparents. The book has been featured in publications as various as The New York Times and High Country News (which covers social, political and ecological issues in the western US). But it wasn't until I saw an interview yesterday with Zamora in the Review section of The Observer that I realised Solito was being published simultaneously in Britain (by Oneworld).
Zamora — a graduate of the creative writing programme at New York University and a Wallace Stegner fellow at Stanford University, California — had written of his experience as a migrant in his debut poetry collection, Unaccompanied. He told Killian Fox that he had been prompted to turn to prose and write Solito by "the weight of the trauma" that he had carried since boyhood:
I began… during Donald Trump's America, when everybody was talking about immigration. In 2017, when we had the Central American child crisis at the border, it seemed it was the first time Americans realised that there had been child migrants. It angered me that they didn't realise it had been occurring for decades, and I was part of that.
But he says there was joy and hope as well as hardship during his journey:
I can still taste the fish we had in Acapulco and remember how happy we were getting food from nuns in a shelter near the border. It's moments such as these that are absent from news clippings and even other works of fiction and non-fiction about immigration.
In retracing his journey, Zamora was helped by Francisco Cantú, who had worked as a Border Patrol agent in the areas where Zamora had crossed — a time he recalled in his own acclaimed memoir, The Line Becomes a River. Letters between the two men were included by William Atkins in his 2021 anthology for Granta of new travel writing, Should We Have Stayed At Home?; you can still read them on the Granta magazine site.