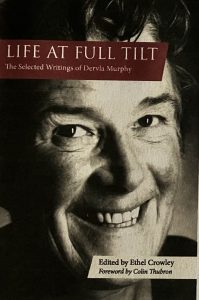 An anthology of the work of Dervla Murphy, who died in May last year, will be released by her long-time publisher Eland on November 2. Life at Full Tilt (£25), edited by Ethel Crowley, an Irish sociologist and friend of the writer, will draw on all 24 of Murphy's books and include her first published journalism — about her cycle ride through Spain in 1956 when she was just 24. It will have a foreword from Colin Thubron, who was one of Murphy's favourite writers. (Incidentally, a tribute to Murphy by Crowley, written to mark the anniversary this year of her death, can still be read on the website of The Irish Times.)
In October, Eland will be reissuing titles by a couple of other writers: The Narrow Smile: A Journey Back to the North-West Frontier by Peter Mayne; and The Christian Watt Papers: Memoirs of a Fraserburgh Fishwife, edited by David Fraser.
Another book due in November is Falling into Place: A Story of Love, Poland, and the Making of a Travel Writer by Thomas Swick (Rowman & Littlefield, $35). Swick, a journalist and author, says his fourth book "ties the story of my quest to become a travel writer to that of Poland's struggle to regain its independence (I lived in Warsaw from 1980-82, the period of Solidarity and martial law) – and throws a rocky love story into the mix. Because of the years covered – 1976-1989 – the book captures travel writing's late 20th-century heyday and the excitement it produced in those of us starting out." The book has a foreword from that "global soul" Pico Iyer.