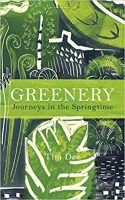 "Nature Writing", says the classification on the back of the latest book from Tim Dee. Partly true. He's good at that. But leaving it there is a bit like saying that Wordsworth was a gardener and Springsteen is a harmonica player. Dee is one of our best living writers of non-fiction, and Greenery: Journeys in Springtime (Jonathan Cape) — which is travel and memoir and poetry and music and human as well as natural history — is perhaps his best book yet.
Having noted that spring moves north at about the speed of swallow flight, he tracks the season and its migratory birds all the way from South Africa to Scandinavia. His book is about how spring works on people as well as birds, animals and plants; about the possibility of life growing from death. It couldn't be more timely. There's an extract in the travel section, in print, of today's Daily Telegraph. Buy the paper if you can and read it (there's another extract on the Caught by the River website). Then buy the book, preferably from an independent bookshop.
*Update, April 16: The extract that appeared in The Daily Telegraph has since gone online.