You travel, you lock yourself away to write, then you come out again to hit the publicity trail when the book's ready. That's how it used to be.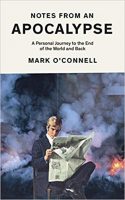 Yesterday was the publication day for Notes from An Apocalypse, in which the journalist and essayist Mark O'Connell (who won both the Wellcome Book Prize and the Rooney Prize for To Be a Machine) makes an anxious exploration of the end-times. O'Connell is a writer whose work entails travel rather than a travel writer; his preoccupations this time around take him from survivalists' bunkers in South Dakota, by way of an environmentalists' retreat, to the Chernobyl Exclusion Zone. His publisher, Granta, sent the book out into the world on Twitter, with a promise that "It'll be just like a real launch, only you'll have to provide your own room-temperature white wine."
There were snippets from the text, endorsements from early readers and reviewers, an introduction by O'Connell's editor, Anne Meadows, and a speech from, and a Q & A with, the author. His book couldn't be more timely — but not even O'Connell could have predicted that he'd receive copies of it from a man in a face mask, and that he would open the box using gloves.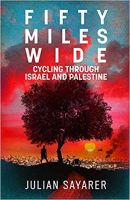 There was a briefer, more low-key launch for Julian Sayarer (who won the Stanford Dolman prize in 2017 with Interstate, for which he hitchhiked his way across the USA). Yesterday was the official publication day for his latest book, Fifty Miles Wide: Cycling Through Israel and Palestine (Arcadia). In a 47-second video posted on Twitter, he thanked all those who had helped him, particularly the cyclists with whom he rode, who had explained to him the politics of their countries. "I've always found the bicycle an amazing way of cutting through to some truth and the humanity of a situation," he says, "and it was definitely no exception there. I hope that people reading [the book] enjoy coming along for the ride."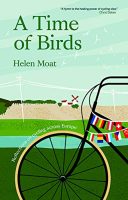 Helen Moat is another cyclist who hasn't been able to make her publicity round. A Time of Birds, which came out on April 9 (Saraband), tells of a journey she made with her 18-year-old son from Rotterdam to Istanbul. It was prompted by a feeling that she was in a rut, with a dulled brain and a "blunted soul". In her account of it, she reflects on her own upbringing in a Plymouth Brethren family during the Troubles in Northern Ireland and her relationship with her bird-loving father.
For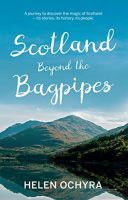 Helen Ochyra, the launch was another online event from home. She's a Londoner who might, perhaps, have hoped to be sending her book on its way somewhere north of the English border. In Scotland Beyond the Bagpipes (The Book Guild) she sets out to get to grips with a country she had dropped into "dozens of times" but didn't really feel she knew. Following the death in 2016 of her mother (her father had died when she was a child), she decided it was time she got round to it.