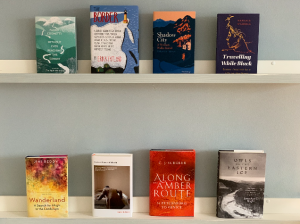 The Stanford Dolman Travel Book of the Year is due to be announced at 6pm. Keep an eye on the Stanfords Twitter account for the news. 
The eight books on the short list are:
Without Ever Reaching the Summit: a Himalayan Journey by Paolo Cognetti (Harvill Secker)
The Border — A Journey Around Russia… by Erika Fatland (MacLehose Press)
Shadow City: A Woman Walks Kabul by Taran N Khan (Chatto & Windus)
Travelling While Black: Essays Inspired by a Life on the Move by Nanjala Nyabola (Hurst)
Wanderland: A Search for Magic in the Landscape by Jini Reddy (Bloomsbury)
The Lost Pianos of Siberia by Sophy Roberts (Doubleday)
Along the Amber Route by CJ Schuler (Sandstone Press)
Owls of the Eastern Ice by Jonathan C Slaght (Allen Lane).