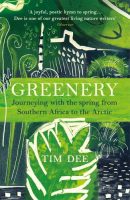 There wasn't a new book last year, in any genre, that gave me more pleasure (and hope) than Tim Dee's Greenery. The publisher classified it as "Nature Writing". It is, partly. But leaving it there is like saying that Wordsworth was a gardener and Springsteen is a harmonica player. Tim Dee can write brilliantly, beautifully, about anything, and Greenery — which is travel and memoir and poetry and music and human as well as natural history — is perhaps his best book yet.
Having noted that spring moves north at about the speed of swallow flight, he tracks the season and its migratory birds all the way from South Africa to Scandinavia. His book is about how spring works on people as well as birds, animals and plants; about the possibility of life growing from death. Publication, in the midst of a pandemic, couldn't have been more timely.
Greenery is now out in paperback and, thanks to the publisher, Vintage, I have five copies to give away. To be in with a chance of winning one, just retweet my mention of the book from either @kerraway or @deskboundtravel, or like and share my post about the book on facebook.com/deskboundtraveller.  You can read an extract from the book on the excellent Caught by the River website.
Terms and conditions
Entrants must retweet a mention of the prize on Twitter from @kerraway or @deskboundtravel, or like and share the post about the prize on the Deskbound Traveller Facebook page, by midnight on Friday, April 2. Each winner, who must be resident in the United Kingdom or Ireland, will receive one copy of the book. Winners will be selected at random and notified by April 9. Unsuccessful entrants will not be contacted.