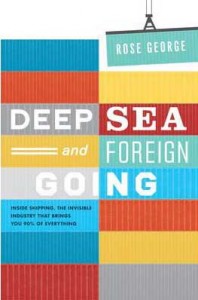 Deep Sea and Foreign Going: Inside shipping, the invisible industry that brings you 90% of everything
By Rose George
(Portobello)
Early in her passage as a "supernumary" on the container ship Maersk Kendal, Rose George is asked by a Scottish cadet why she has chosen to go to sea.
"Because shipping is so fundamental and crucial and no one knows about it," she tells him.
"But it's boring," he says.
Not in George's hands. From the start it's clear she intends to be as entertaining as she is informative about cargo ships and the lives of those who work on them: "Friday. No sensible sailor goes to sea on the day of the Crucifixion…" She delivers on that promise: there is something startling or moving and often both on almost every page of this book, which is both well researched and crisply written.
Ten times as many workers die at sea as on land; worldwide, four times more people die in ferry accidents than in aircraft. Between 1997 –  when Somali piracy properly began – and 2010, 67 hostages died, some killed by captors, others caught in crossfire during attempted rescue.
A captain has no idea what is inside the "quiet blank boxes" that are loaded on his ship; it would take days to read the manifest, assuming there is one on board. The crew know the contents of hazardous and refrigerated boxes only. One fruit is carried so often by sea that it has been given its own temperature: "Two degrees Celsius is 'chill', but 13 degrees is 'banana'."
The Filipinos who make up more than a third of all crews worldwide, the crews whose job is to check those boxes, to hose salt and oil off the decks, to fix, repair, tend, weld and heave, can spend 15 years at sea, missing the birth and birthdays of their children, to earn enough to buy a place to live; "dollar for homesick" they call their job.
The company with which George travels, Maersk, is the largest container-shipping firm in the world, with 600 vessels. It operates in 130 countries and has 117,000 employees. "Its revenues in 2011 amounted to $60.2 billion, only slightly less than Microsoft's. Microsoft provides the software that runs computers; Maersk brings us the computers. One is infamous; somehow the other is mostly invisible."
At least it was. In Deep Sea and Foreign Going, George does an excellent job of tugging that industry into the light. She sails from Felixstowe to Singapore via the Bay of Biscay, the Suez Canal, the Gulf of Aden and the Malacca Straits. She spends time on board with everyone from captain to cook, time ashore with seafarers longing to swap steel decks for springy grass. She braves the pirate zone of the Indian Ocean the day after a hijacking and makes a pastoral round with Colum of the Seamen's Mission, a priest in a high-viz jacket and a hard hat.
Even where she seems to be digressing, with a chapter about what noise pollution may be doing to whales, she convinces the reader to stay with her by springing another  surprise. She meets a biologist conducting research into the physiology of whales by examining  their poop, or "scat". It needs to be collected as soon as it's been deposited on the surface – so the biologist has trained a dog to sniff it out.
George herself appears no more often in her book than a ship's engineers do on deck. It's the seafarers she wants us to hear, and she interrupts them no more in her pages than she would have impeded them on the gangways. Her empathy for them does not extend to those who would halt their ship and take them hostage. She is astonished that piracy can be seen either as romantic or (by business schools) as an example to captains of industry in leanness and meanness. After encountering alleged pirates in a courthouse in Mombasa, Kenya, she writes: "I look at these hungry diseased men who pointed weapons at the crew of Polaris and terrified them for financial gain, and I don't care about their poverty or problems. I glare at them."
By the end of her passage on Maersk Kendal, it seems ("we" rather than "they") she has begun to think of herself as one of the crew, even if she finds some shipmates easier to rub along with than others. At one point, she tries to explain to the grumpy Igor, second officer, deck, why she spends so much time leaning over the charts; how she finds romance in Hecate Patch, Fairy Bank, King Arthur Canyon. "Words!" he says scornfully. "For us it is just work."
I think even Igor might admit that George's work is a triumph.
MK
Deep Sea and Foreign Going by Rose George is published in paperback by Granta. For more about Rose George's work, see her own website.