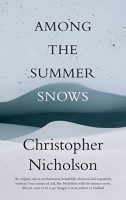 In a piece in the travel section of The Guardian on Saturday, the novelist Christopher Nicholson told how he has been captivated since boyhood by the Cairngorms, and touched briefly on the survival there in summer of snow. It's a subject he explores at slightly greater length (159 pages) in his latest book, Among the Summer Snows (September Publishing); a book he began 10 years ago, abandoned when his wife fell ill and returned to after her death. "Snow," he admits, "has no quantifiable value; if you hold a piece in your hands it soon tells you what it's worth by turning to water and running away." But for him, the survival of snow in summer, its rareness and improbability, has become a singular passion. The book chronicles walks on which he seeks it out under cliffs and crags, in clefts and corries, and ponders its meaning:
There are times when I imagine the snowbeds as shrines and chapels, scattered in the mountains, the relics of a disappearing religion, and there are other times when they fill me with ideas about beauty and death. Death robs life of meaning, beauty infuses life with meaning. Death and beauty are aspects of the polar divide: on the one side weight and matter and inertia, on the other light and spirit and the airy zones. Summer snow is a bridge that stretches across the divide.
It's a book of close looking and close thinking, attentive not just to the snow but also to the plants and to the mosses and lichens forming mini-landscapes at the author's feet as he makes his way to the snowbeds. A glorious little book, beautifully produced, with the author's photographs, by the independent imprint September Publishing.