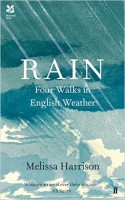 "If you only ever go out on sunny days, you only see half the picture," Melissa Harrison writes in Rain: Four Walks in English Weather (Faber & Faber).
Having been born in Northern Ireland (where if you wait until "a plump" is over you'll never get  anywhere), I knew that already, but I still enjoyed this sparkling shower of a book, in which she combines her outings across Wicken Fen, Shropshire, the Darent Valley and Dartmoor with weather lore, science, memoir and "a little conjecture".
Try it: it's a book that makes you want to be out in the wet.