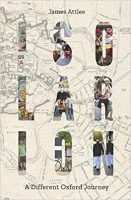 When I key in the title of the latest book from James Attlee, the spell-checker built into my software corrects it. The spell-checker wants to make it Isolation. The proper title is Isolarion. It's the term for a 15th-century map that isolates an area to present it in detail — and in that detail finds a greater truth.
Both the spell-checker and the book — which has just been reissued in a new edition by the innovative publisher And Other Stories — seem in tune with our strange times. At the moment, none us can roam as readily or as far as we used to. Some of us can't leave home at all. Many of us are attending more closely to what's immediately around us, and seeing it afresh — just as Attlee, like an urban Gilbert White, does in Isolarion.
White, a country boy who went to Oxford, became the founding father of nature writing partly by adjusting to his environment. He had become a priest and was tied to a Hampshire parish; he was missing his peers, but because coach travel made him sick he couldn't stray far. Those constraints and tensions contributed to The Natural History of Selborne (1789). As Richard Mabey, that modern-day green man, has observed*, "While Joseph Banks was exploring on the other side of the globe, [White] was out with a lantern, counting earthworms on his back lawn. White's achievements were partly the result of using these constraints as creative opportunities. Emotionally and intellectually, he hunkered down in Selborne, and joined the world outside through writing."
Attlee does the same with Isolarion. When he wrote it he was itching to travel, but couldn't find the time. There were "mouths to feed, bills to pay, deadlines to meet". Then it dawned on him that the voyage he needed to make began a few minutes' walk from his own front door in Oxford. Out there was the Cowley Road, lined with businesses that seemed to represent every nation on earth: from a Jamaican restaurant, via a Ghanaian fishmonger, to a Russian supermarket. As he puts it in his introduction, which you can read now on Deskbound Traveller, "Why make a journey to the other side of the world when the world has come to you?"
Attlee's journey is allegorical as well as physical. His progress on the ground was interrupted by the demands of daily life, and his pages are full of the best kind of digressions — as Colin Dexter, creator of Inspector Morse, noted: "Anyone who can drag Lucretius, Susanna, Bathsheba and St Jerome into a Cowley Road porn shop deserves our attention and admiration."
The new edition has an afterword by Geoff Dyer, who was equally impressed. He writes: "The fact that it's a book about Oxford is off-putting (I mean, who gives a toss about Oxford?) and alluring in equal measure. If he could write about this city and make it compelling, wouldn't that be a greater tribute to his authorial prowess than if he'd written about Mogadishu? The subtitle promises 'a different Oxford journey', one confining itself to the Cowley Road… The attraction, for Attlee, is that the Cowley Road 'is both unique and nothing special'; the resulting book is unique and very special."
Thanks to Attlee and his publisher, I have four copies of Isolarion to give away. To be in with a chance of winning one, just retweet my mention of the competition on Twitter from either @kerraway or @deskboundtravel, or like and share my post about it on facebook.com/deskboundtraveller.
Terms and conditions
Entrants must retweet a mention of the competition on Twitter from @deskboundtravel or @kerraway, or like and share the post about it on the Deskbound Traveller Facebook page, by midnight on May 18. Each winner, who must be resident in the United Kingdom or Ireland, will receive one copy of the book. Winners will be selected at random and notified by May 22. Unsuccessful entrants will not be contacted. For more books from And Other Stories, see the company's website.
*Mabey's essay on White is included in a collection of his pieces reflecting on a life in writing: Turning the Boat for Home (Chatto & Windus).