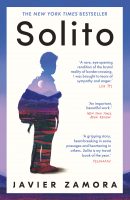 Imagine you're a nine-year-old boy being raised by your grandparents and aunts in El Salvador. Your parents have fled a civil war and are living in the United States. Then they tell you on the phone that you'll soon be taking "a trip" to join them. That trip, everybody reckons, will last two short weeks. Instead, it turns into a nine-week journey of 3,000 miles in the company of strangers. You freeze on a boat, fry in the desert, have guns pointed at you and see the adults who have been helping you get handcuffed. Imagine how that would feel… You don't have to. In his memoir Solito, Javier Zamora, who made that journey in 1999, shows you exactly how it feels.
Solito is out this week in the UK in paperback (and I'm delighted to say you can read an extract here on Deskbound Traveller). Thanks to the publisher, Oneworld, I have five copies to give away; to be in with a chance of winning one, just retweet/repost when I mention the competition on Twitter (recently and ridiculously renamed X) on either @kerraway or @deskboundtravel.
Terms and conditions
Entrants must retweet/repost a mention of the prize on Twitter/X from @kerraway or @deskboundtravel by midnight on August 19. Each winner, who must be resident in the United Kingdom or Ireland, will receive one copy of the book. Winners will be selected at random and notified by August 24. Unsuccessful entrants will not be contacted.