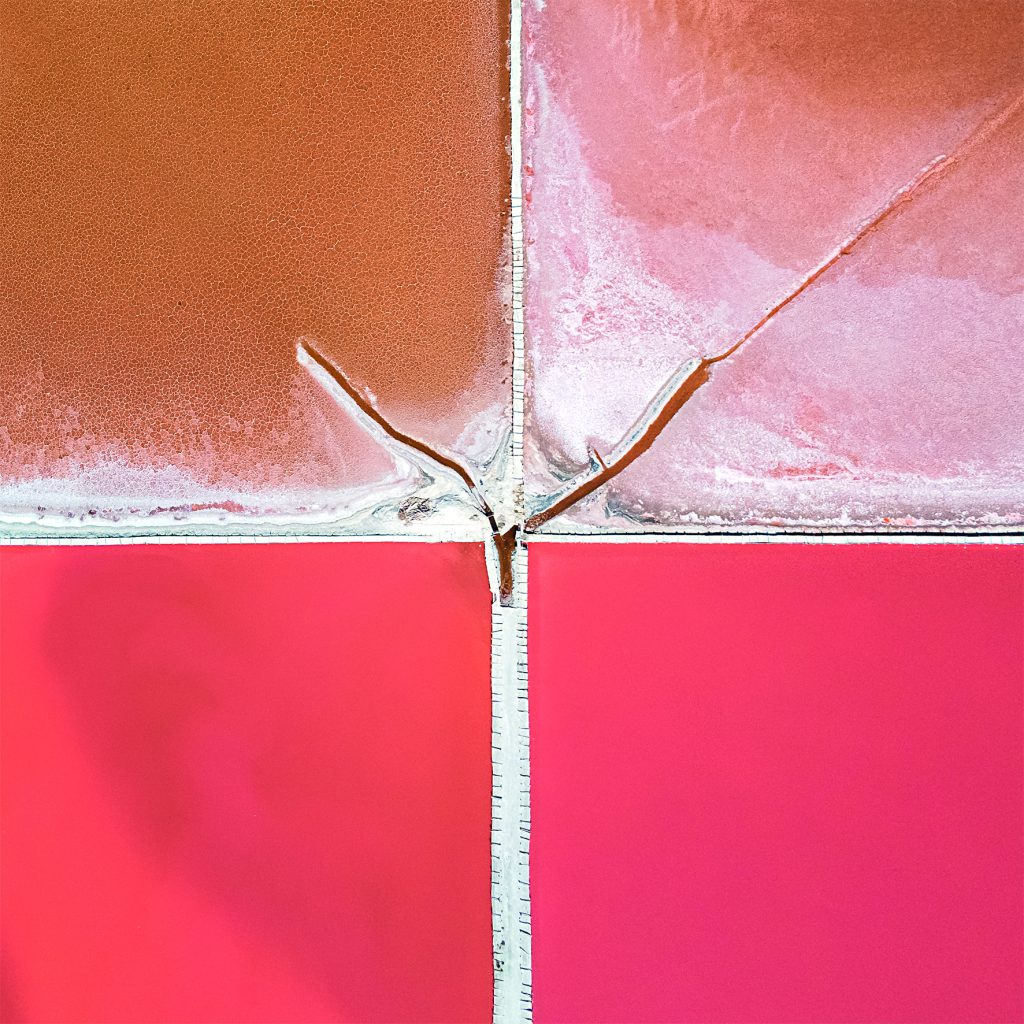 "Pink Lake Geometry", as seen in Heroiske, in the Kherson region, from The Beauty of Ukraine by Yevhen Samuchenko and Lucia Bondar. Picture © Yevhen Samuchenko
Many a wandering spirit, forced to hit the pause button in 2020, got back on the road this year. Raynor Winn, bestselling author of The Salt Path, strapped her backpack on again in May 2021, when lockdown was still blanketing the country "in a sense of inertia". The health of her husband, Moth, who has an incurable brain disease, was suddenly worsening, and she hoped that nature, which had worked its magic on their trek round the south-west coast, would do so again. In Landlines (Michael Joseph, £20), she tells how they set out to tackle the 200-plus miles of the Cape Wrath Trail in north-west Scotland — and ended up walking (with a little cycling) all the way back to their home in Cornwall, a journey of 1,000 miles. Along the way, they defied doctors, logic, midges, horseflies, rain and heat.
Landlines is an inspirational story of love and endurance; of trails offering links to ancient times. But it's clear-eyed, too, on the future we're shaping: "all the miles of exposed blanket bog, the glens with no trees… it feels as if there's no way back, we're standing on the brink".
That message resounded through my reading this year. The call of the north also figured large. Sarah Thomas, one of those who answered it, tells her story in The Raven's Nest (Atlantic, £17.99). She went to the Westfjords of Iceland for the screening of a film she had made and found herself falling first for a landscape, then for a man and his family. For a while she guided tourists from visiting ships. "You must write a book," many told her. She said she would, while wondering whether she could find words to "trace my path as insider and outsider, criss-crossing, braiding". That's exactly what she's done.
"The sea is where I've always run to," Doreen Cunningham writes in Soundings (Virago, £18.99). As a young journalist reporting on climate change, she spent time with an Iñupiaq family of whalers in Utqiagvik, the northernmost town of Alaska. When she finds herself a broke single parent, she heads for the water again. With her son, Max, she sets out to follow, by bus, train and ferry, grey whale mothers swimming with their calves on one of the longest of mammalian migrations, from the lagoons of Mexico to the glaciers of the Arctic. Soundings is a wonderful debut: a memoir that's both frank and fearless, and a plea for the whales to be allowed to live, and die, in peace.
One of the writers Cunningham cites is the anthropologist Hugh Brody, who spent a decade living and working among the Inuit in northern Canada. His latest book, Landscapes of Silence (Faber, £20), is a hymn to the Arctic, and to the ways of the hunter-gatherers who made him feel at home there. It's haunting in its account of things that went unsaid, both in his Jewish family in Sheffield, after the Second World War, and among the Inuit in the Canadian far north, facing the worst side-effects of "development" and "progress". It's also beautifully written.
The journalist and film-maker Matthew Teller, who grew up in a Jewish family in London (but now considers himself secular), has been visiting Jerusalem since he was 11. It's a place, he has felt for a while, whose people are seen as less important than the stones that surround them. In Nine Quarters of Jerusalem (Profile Books, £16.99), a sprightly and scholarly "new biography of the old city", he sets out to put that right. As his title suggests, Jerusalem has many more quarters than the four that appear on maps, and many more sides than the two featured regularly in news headlines. He wants to "amplify the unlistened-to" — to bring us the voices not just of Palestinians and Jews but of Armenians, Africans and Indians, Greek and Syriac communities, Dom Gypsies and Sufi mystics. As he heads on his myth-puncturing way round another corner, through another gate or door, you'll be flicking to the maps on the inside covers, but you'll be confident, too, that he'll emerge with a great story.
Teller's book, including notes, is just short of 400 pages. The Saviour Fish, by Mark Weston (Earth Books, £11.99), is half that length, but in it Weston explains an environmental crisis behind failing fish stocks on Lake Victoria, and offers a vivid portrait of daily life over two years on Ukerewe Island, where both witch-doctors and Christian preachers still have a powerful hold.
Shorter still — 139 pages — is an account by Markiyan Kamysh of another singular place, one that was dangerous long before Russian shells began falling in it earlier this year: the Exclusion Zone around the former nuclear plant of Chornobyl (as it's spelt in Ukrainian). His father, a scientist, helped shut down the plant, so he knows better than most what the risks are. Yet, in Stalking the Atomic City (Pushkin Press, £12.99), he tells of his countless illegal visits to "this land of tranquillity and frozen time". Hardly a guide to follow on the ground, but compelling on the page.
Some of the best non-fiction of recent years has been on travels that were forced rather than longed-for: the journeys of refugees and migrants. In The Naked Don't Fear the Water, Matthieu Aikins (Fitzcarraldo Editions, £12.99), a Canadian journalist, takes the smuggler's road out of Afghanistan — not because he has to, but because his driver, translator and friend, Omar, is fleeing the country. Aikins wants to show us the refugee underground from the inside: "the cities of the world connected by a network of paths that measure not physical distance but danger: the risk of getting arrested, stuck in transit, scammed, kidnapped or killed". It's a brave book, and a brilliant one.
And what must the smuggler's road be like for a child? Imagine you're a nine-year-old boy being raised by your grandparents and aunts in El Salvador. Your parents have fled a civil war and are living in the United States. Then they tell you on the phone that you'll soon be taking "a trip" to join them. That trip, everybody reckons, will last two short weeks. Instead, it turns into a nine-week journey of 3,000 miles in the company of strangers. You freeze on a boat, fry in the desert, have guns pointed at you and see the adults who have been helping you get handcuffed. Imagine how that would feel…
You don't have to. In his memoir, Solito (Oneworld, £18.99), Javier Zamora, who made that journey in 1999, shows you exactly how it feels. It's a gripping story, heart-breaking in some passages and heartening in others. Here and there, the prose and its rhythms remind you that you're reading not the diary of the child but that of the writer he became. On page after page, though, there's the authentic voice of a nine-year-old boy. The coyotes (traffickers), he says, have told him he's got to act as if Patricia, a fellow migrant, is his mother: "…in public I call her 'Mom', and only to trick soldiers. I know who my real mom is. But it's funny that they're both super short, they both have big tempers, and they both like to keep things clean." Solito (which I've written about elsewhere on Deskbound Traveller) is my travel book of the year.
PHOTO BOOKS
Yevhen Samuchenko has won numerous international awards for his photography, but none of his projects has been quite like his new book. The Beauty of Ukraine, with text by Lucia Bondar (teNeues, £39.95), was envisaged as a tribute to the landscapes of his homeland. It has also become a testament to the determination of his publishing team in Kyiv, CP, who had to flee their office after the Russian invasion but, with the support of teNeues, continued working on the book.
Here — seen mainly from the air — are pink salt lakes, their shapes and patterns reminiscent of the art of Kandinsky or O'Keeffe; the waterfalls and canyons of the Carpathian Mountains; and the beaches of the Black Sea. Many of the places featured have since been severely damaged by bombing and shelling. An image of a woman walking through a field of purple blossom, heavy clouds building above her, has a prescient title: "Before the Storm".
Travel features strongly in a superlative collection from the Sony World Photography Awards: 2022 (World Photography Organisation, £38.99) embracing everything from sport, via landscape, to still life. There's a tribute, with an essay by the historian Simon Schama, to the Canadian Edward Burtynsky, who won an "outstanding contribution to photography" award. Through the terrible beauty of his images of waste and wreckage, Schama says, Burtynsky "calls on us to repair our only earthly home". There are portfolios on migrants from Latin America, who had to scale fences to get into the US, and on football fans in Prague, who set stepladders against their club's wall when Covid forced the team to play to an empty stadium.
Perch that seem to be swimming in a soft turquoise sky rather than water — in pink clouds of an algal bloom that is probably caused by global warming; a giraffe hiding in a national park — from a train that will rattle overhead on a newly built railway: Wildlife Photographer of the Year: Portfolio 32 (Natural History Museum, £25), the latest showcase for a competition that began in 1965, combines wonders with powerful warnings. The foreword, by the conservationist Chris Packham, is blunt. Most of the natural world, he argues, "is no longer beautiful. It's very ugly. And we need to see that… we need to look at it — long and hard."
My favourite image in Landscape Photographer of the Year: Collection 15 (Ilex, £35) is a glorious one of Chrome Hill in the Peak District, including not only a rainbow but raking light along the Dragon's Back. The photographer, Demi Oral, couldn't believe how things had fallen into place. Jon Brook tells how he had a similar break on a sunshine-and-showers day while trying to capture a steam train on the Glenfinnan Viaduct. "I was lucky," he says. "Sometimes, the more you plan, the luckier you get."
Portrait of Humanity Vol 4 (Hoxton Mini Press, £25) is the fruit of a competition designed "to celebrate that which unites us in a time of division". Those brought together in its pages include a fur-clad young eagle huntress and her bird in the Altai Mountains of Mongolia, and a suited teacher in New York's Central Park, marking Latin papers while coaching an athletics team. Both look perfectly at home. Then there are the Syrian toddler and her baby sisters, twins born in a refugee camp in Iraq, and the two activists from the Waorani tribe in the Ecuadorian rainforest, who flew to Glasgow with their baby — their first time on a plane — to call for action on climate at Cop26.
If you don't live near an independent bookshop, and you order your books online, I'd recommend you do so where possible through uk.bookshop.org, which supports local bookshops. Interest declared: if you buy through a link from Deskbound Traveller, I will earn a little commission.
Petal power: the image below of a street vendor in Hanoi won first place in the travel category of the Sony World Photography Awards 2022. Picture © Thanh Nguyen Phuc