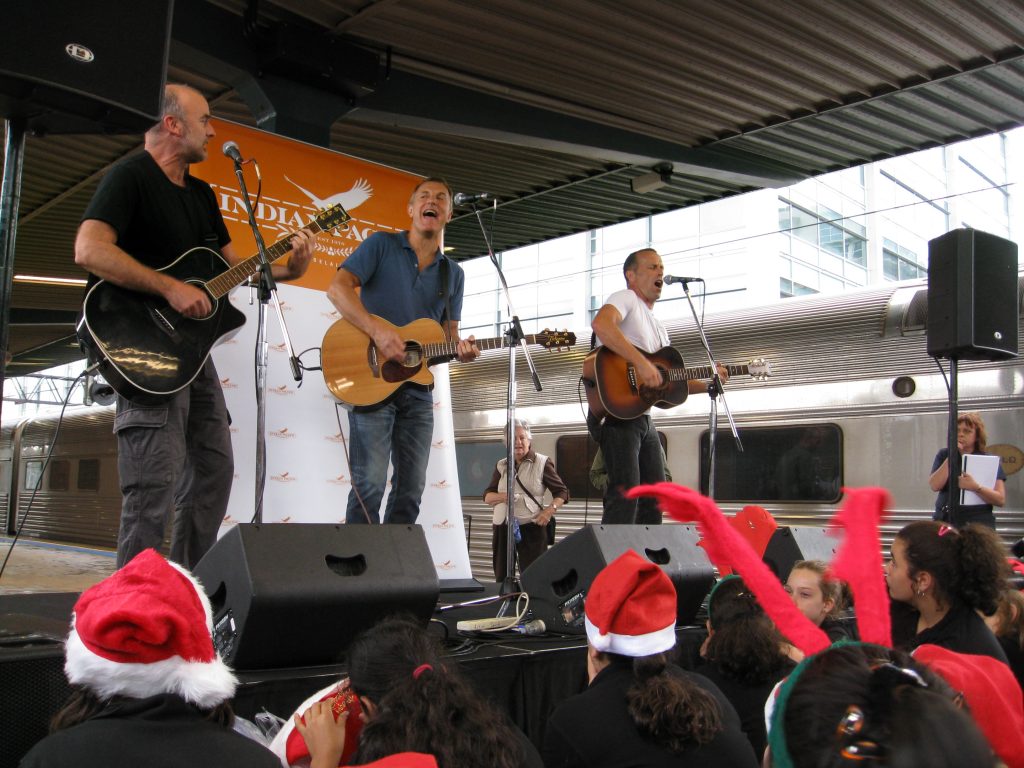 Platform songs: (from right) Mark Seymour, James Reyne and Cameron McKenzie, with local schoolchildren at Sydney station before the train set off
My family got back to the old normal this Christmas, with 11 of us throwing our arms around one another before lunch. Two years ago, it was just my wife and myself at the table. Then, as this year, I'd been playing music I first heard in the run-up to Christmas 2010 — in Australia
There are songs that never meant what we thought they did. Among them is Paul McCartney's "Got To Get You Into My Life", which expressed not what he felt on first meeting a singular woman but, as he disclosed in a biography in 1997, what he felt when he "had first been introduced to pot".
There are songs that aren't as straightforward as the chorus, and its rousing delivery, might suggest. One of the best-known in that category is Bruce Springsteen's "Born in the USA", in which a Vietnam veteran tells how they "Sent me off to a foreign land / To go and kill the yellow man", and how, when he got home, he ended up jobless and hopeless.
And there are songs that acquire new meaning in new times. A fine example of the last is Paul Simon's "American Tune", which was released when Nixon was in the White House, in 1973, but spoke powerfully to the Covid-worried world of 2020: "And I don't know a soul who's not been battered / I don't have a friend who feels at ease."
Another song of the last kind, for me, at least, is "Throw Your Arms Around Me", which was written by the Australian singer-songwriter Mark Seymour and other members of the band he led for nearly two decades from 1981, Hunters and Collectors. In its opening lines it's less of a love song than a lust song ("I will come for you at night time / I will raise you from your sleep…"). It's about making the most of what time there is, and its chorus, at first a command, seems at the end (in Seymour's acoustic version, at any rate) to be an expression of scarcely believable good luck: "You will thro-ow your arms around me."
I first heard it 12 years ago. It's on an album by Seymour, The Closest Living Thing, that I've got into the habit of playing a few times in the run-up to Christmas. The album takes me to another Christmas, and to other places: from Sydney, in the first week of December 2010, through the Blue Mountains and the silver-mining town of Broken Hill, to Adelaide, and then on through the dusty outback stations of Watson, Cook and Rawlinna to Perth. I was on the Indian Pacific train, a "Santa Special", with entertainment provided by Seymour and two other veterans of the Aussie rock scene: James Reyne, who led Australian Crawl before going solo, and Cameron McKenzie, long-time guitarist in Horsehead, who both played on and produced The Closest Living Thing (and who as a session musician has recorded with acts from Johnny Cash to Aerosmith).
I hadn't heard of any of them before I signed up for that trip. Afterwards, I bought Seymour's album and one of Reyne's, One Night in Melbourne. I sing along to songs by both men that I first heard inside and outside the silver carriages of the train: "Do You See What I See?", "Holy Grail", "When The River Runs Dry" (Seymour); "Reckless", "Errol", "The Boys Light Up" (Reyne). But "Throw Your Arms Around Me" (which has been covered by Pearl Jam and Crowded House) had particular resonance in 2020.
On Friday, December 18, my wife, Teri, went to Chessington World of Adventures in Surrey — but not with our grandchildren. A place that had begun life as a zoo, and then become a theme park, had morphed (in its car park, at least) into a Coronavirus testing centre. Teri and I had signed up early to the Covid Symptom Tracker (later the Covid Symptom Study) by adding its app to our phones. Having logged on the app for several days muscle aches, a sore throat and a diminished sense of smell, she had been invited to take a test.
Our son-in-law was due to turn 40 on December 22. As we were in a "childcare bubble", Teri and I had agreed that we'd have the children so that our daughter could take him out to celebrate. Then we'd spend Christmas Day at their house, playing with the kids and their new presents, windows wide open, while lunch was being cooked. We'd be bringing the booze and the puddings.
It wasn't to be. At a briefing broadcast on the evening of December 19 from Downing Street, the prime minister, Boris Johnson, having previously told us that a jolly Christmas was on but we needed to be jolly careful, cancelled seasonal gatherings. Minutes later, Teri got a text to say that her test had come back positive.
Where had she picked up the virus? We could only think that it had happened the previous weekend, when we had driven from Epsom to Worthing (where we now live) for a much-needed blast of sea air and later had a meal in a restaurant — our first meal indoors in a restaurant in nine months. Teri was told she needed to self-isolate. Later that night I got a text on another app, the NHS Covid-19 one, to say: "The app has detected that you have been in contact with someone who has coronavirus. Please stay at home and self-isolate to keep yourself and others safe." According to advice on the Gov.UK site, "If you or anyone in your household has symptoms that may be caused by Covid-19, then you should avoid contact with other household members as much as possible."
Teri and I, having been denied hugs with our family for much of 2020, were now being warned, whatever we did, not to throw our arms around each other. We could listen to Mark Seymour, but we shouldn't suit action to words.
We ended up having a Christmas lunch with all the trimmings and none of the company, one of us sitting at either end of the dining table, but we were cautious rather than ailing. By the time Teri got her positive result, she was feeling better. I tested negative — maybe falsely, because I had what felt like a cold plus red chilblain-like marks on my toes. Those, it turned out, were among the more unusual symptoms logged by people on the Zoe Covid-19 app, and would last for a few weeks.
A couple of days before Christmas, I'd woken with a bad headache, but after two paracetamols, three cuppas and a few slices of cranberry, raisin and cashew-nut bloomer delivered by the Tesco man, I already felt a lot better. He'd come to the door with a cheery "Hello. How are you?" When Teri answered, "I'm OK, thanks, but I've tested positive," he backed off, sharpish, to ensure she didn't breathe over him. I thought back to that run-up to Christmas in Australia in 2010, and how I'd been on trains and platforms where people were not only breathing over one another, but singing, at the tops of their voices. And the only worry was a snake…
* * *
The snake, finger-thin and yellow-brown, slithered under Santa Claus's battered old armchair. Santa bent as if to touch it, and for a moment it looked as if he too might get bitten. It disappeared. Where had it gone? This being outback Australia, there was a Snake Dundee at hand who had a pretty good idea. He reached down, grabbed the snake behind the head, and turned what had been a pandemonium-producing reptile into the subject for a photo-opportunity.
Meanwhile, Lauren, a teacher in her twenties who had travelled three hours through the bush to a railway siding with her Aboriginal pupils just so that they could meet Santa, was sitting on the earth, her left leg bandaged from ankle to knee. "Aow! It's really stinging," she said.
"She's lucky," another macho type chipped in. "If the snake bit her, she's a special girl. The snake was attracted to her. It didn't bite you [this to a woman who was not quite as slim as Lauren] because it if had, the snake would have died."
A nurse who had arrived with the children and a doctor who happened to be on the train were less convinced about Lauren's good luck. She was carried on a stretcher to an ambulance that had been waiting as a precautionary measure – the only one within a radius of 190 miles – to be driven to Maralinga, some three hours away, and flown from there to hospital in Port Augusta, north-west of Adelaide. By this time her charges, and the rest of the Aboriginal party, were long gone. Time to get back on our silver bullet.
We had arrived about an hour earlier, intent on bringing festive cheer. For 40 years the Indian Pacific had been crossing Australia, and for the past 10 its operating company, Great Southern Rail, had run a Christmas special as a thank-you to the communities that support the train throughout the year. As well as Santa Claus to dole out goodie bags, the company booked a nationally known musician. This year, there was a trio: Seymour, Reyne and McKenzie.
So far, troubadours and Santa had raised the roof at stations in Sydney, Broken Hill and Adelaide. First, the local schoolchildren would take to the stage with Aussie-flavoured carols ("Oh, what fun it is to ride in a rusty Holden ute"), then Seymour and Reyne would play a few of their hits, then stars and school choir would combine in "Rockin' Around The Christmas Tree". After that, it was time for the man in the white beard.
Santa is a figure unknown in Aboriginal culture, but in the 11 years that Bruce Dent, a retired bank manager, had been playing him, he had become a familiar and eagerly awaited one in this part of the country. The night before we arrived at the railway siding of Watson, Bruce's wife, Colleen, told me: "At the start the kids were very tentative, but over the years they have got more confident. These days, they're in there like Flynn."
And so it proved. Watson doesn't even appear on Great Southern Rail's map of the train's route; it's mentioned, if at all, for its proximity to the former nuclear testing site of Maralinga. When we arrived, though, it had become a semi-circular Aboriginal encampment of minibuses and 4x4s. Teenagers waited close to the track; younger children hung back with mothers or fathers, who leaned against pick-ups or sat in the dust with their dogs.
There was no carol singing here. Indeed, when the rockers began playing, they were met with giggling. However, when Santa stepped off the train, to sit down with his sack beneath a tinsel-hung bush, he was mobbed. For a moment, his red suit was completely lost in the scrum. It was shortly afterwards that the snake (identified by one bystander as a "yellow-faced whipsnake" and by another, with equal certainty, as "a yellow-tailed whipsnake") made its appearance, leaving the white people in a tizzy and the black people entirely unfazed.
Maybe we had tempted fate. Shortly after we had left Sydney, on the first evening of our three-night trip across the continent, I came back to my compartment to catch this snatch of commentary over the train's PA system: "It's very easy to provide statistics that make Australia sound like a dangerous place in relation to snakes…"

Looking on at Watson, where Santa
disappeared in the scrum
Easy, too, to get the wrong idea of the sort of landscape you are going to be seeing. Through the window of my compartment – a space with not only a fold-down bed, but a fold-down loo and fold-down sink – it looked much greener than I had expected. Thanks to unseasonal rain in the east, Sydney was having its wettest spring for six years and its coolest for 11. We had to bypass our first scheduled stop, Bathurst, and its waiting carollers, because the track was submerged.
"When the river runs dry" is one of the songs Mark Seymour delivered at stops along the way. No danger of that in the east. Menindee Lakes, on the approach to the silver-mining town of Broken Hill, had the air of an inland sea, a spooky one with drowned tree stumps. One of my sisters had lived in Broken Hill. She and her husband — who had worked down under before — emigrated there in the mid-1970s, partly because there was assisted passage and partly because job prospects were better than in Northern Ireland. They'd brought up their family there, but eventually divorced. I'd liked to have wandered round the town, but there wasn't time. On the way into its station, though, I saw my first and only kangaroos of the trip: six of them on a roof, cutouts in wood hauling Santa's sleigh north to the Pole.
Our own Santa, Bruce, 6ft 3in with silver hair and moustache, wasn't interested in going that far afield. "I've been to the furthest points north, south, east and west in Australia," he told me. "I'm not that bothered about going abroad. I like to see my own country."
Most of the passengers on our 22-carriage train had boarded with similar intent, many of them pensioners taking a trip they had promised themselves for years; a chance to see the Australia celebrated in Dorothea Mackellar's "My Country", a poem she wrote while homesick in London around 1904:
I love a sunburnt country,
A land of sweeping plains,
Of ragged mountain ranges,
Of droughts and flooding rains.
Dr Andy Killcross, 37, a GP from Manchester, was enjoying the ride, too. But he was there to explain and promote the work of one of the few Australian institutions of which no Australian has a bad word to say: the Royal Flying Doctor Service. Having taken a job at a hospital in Sydney, intending to stay only 12 months, he saw a post advertised in the RFDS, based in Port Augusta. That was eight years earlier. He was now married to an Australian, and they were expecting their first child.
The service, he was keen to stress, is not just for aero-medical evacuations. Preventive medicine, from immunisation to a mental health project for teenagers, is a large part of its unsung work. It was the emergencies, though, about which people most want to hear. He talked of a flight to an injured miner in the desert in South Australia, and a landing in the dark on an airstrip lit by flares of burning kerosene. "Not the kind of thing I'd be doing if I'd carried on as a GP in Manchester."
He had been called out, too, when a passenger had a stroke on the Indian Pacific near Cook, a place that's normally home to only four people who maintain a boarding house for long-distance train drivers: "Suddenly the train arrived with all these passengers. And then we came taxiing down the main street in our plane…"
On the ground, he was told that a second woman was ill; it turned out that she had a potentially fatal heart condition. Given the narrowness of the train, it was impossible to get a stretcher in to the stroke victim. One of the staff went in on hands and knees, she was put on his back, and then he carried her to the train door. Both patients made it to hospital.
Cook is on a 300-mile stretch of track that doesn't have a kink, let alone a curve: it's the longest straight in the railway world. It runs through the Nullarbor ("treeless") Plain, where, for mile after mile, the only vegetation is bluebush and saltbush. Here, a bird on a wire was the cause of great excitement at the windows of the Queen Adelaide restaurant car, and even a birdless wire added a little variety.
"Look!" a New Zealander said: "Big hole! What is it – an asteroid crater?
"I think you can safely say so," an Aussie responded. "Who's going to be able to find it again to check?"
We were safe, too, from the trill of the mobile. On the Nullarbor, even the smartest of smart phones had to admit that it had "No Signal".
Our arrival at Cook was a little more routine than Andy's, but there were enough of us to keep half the population, one man, one woman, behind the counter in the souvenir shop for all of 20 minutes. Santa, in full gear, was dragged into several groups for a photograph. Tourist dollars were taken for "stubbie holders", teaspoons, cuddly koalas and laminated pieces of A4 paper testifying that the holder had crossed the longest stretch of straight railway in the world. An ancient-looking notice on a blocked-off door read: "Any arsehole that steals from this camp will be gut shot and left for the eagles to feed on."
That's the kind of promise I can imagine having been made by one of the tough-looking men who brought their families out to greet our Christmas caravanserai at Rawlinna. This sheep station has 70,000 sheep, but as they are spread over 2.5 million acres finding them at shearing time requires an aircraft. Mustering one paddock with the aid of motorbikes can take eight hours – and that's assuming that they are all "in the right place". The station hands, leaning against their 4x4s and knocking back the stubbies, looked like an audience that might be hard to please.
Urging them to come a bit closer, Mark Seymour said: "We didn't bring a PA. Just got our guitars, so it's not so loud."
One of the hands responded with a laugh: "You did bring a train, though."
There were no carols here – not enough children for a choir – and maybe a bit less singing along, but there was as much toe-tapping recognition of the Seymour-Reyne repertoire as there had been everywhere else.
Last time he had played places this remote, Reyne had said earlier, he had been younger and thirstier. He and his band had been warned by local police not to overdo the drinking. "This time, he joked, "I've eaten my way across. They do feed you well."
They did. Dinner menus ran to four choices of main course and two of dessert – which on the last night included plum pudding. After that, Seymour, Reyne and McKenzie sang for the penultimate time in the car park behind Kalgoorlie station, while the wind whipped at the pompoms of the primary-school choir's hats.
After a last "Great Australian Breakfast", we entered the outskirts of Perth, and the last stretch of a journey of 2,720 miles, from the Indian Ocean to the edge of the Pacific. Trackside maintenance work brought us to a halt on an incline. On the other side of the window were gardens mulched with bark chippings, over-tidied trees, a pre-office jogger glancing at her watch. Suburbia was swallowing a train that had crossed a continent.
The band from the silver bullet: playing for the crowd at Watson