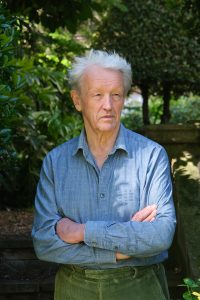 Writing on travel and place features strongly on a tremendous bill for the Cheltenham Literature Festival, which is scheduled to run from October 8 to 17.  Speakers will include Colin Thubron (left), whose new book The Amur River: Between Russia and China, is due to be published on September 16. Tim Hannigan, who interviewed Thubron and many other travel writers for The Travel Writing Tribe, will also be contributing. He and Georgina Lawton, author of Black Girls Take World: The Travel Bible for Black Women with Boundless Wanderlust, will discuss with Jenny Coad, deputy travel editor at The Times and The Sunday Times, where travel writing can go in the 21st century.
Anita Sethi, author of I Belong Here, the British Bangladeshi birder and activist Mya-Rose Craig (We Have A Dream) and Lucy McRobert (365 Days Wild) will explore "why rural Britain remains predominantly a white landscape, the ways in which we all connect with nature, and what we can do to create a truly inclusive countryside".
In a session billed as "Thinking on your feet", Annabel Abbs (author of Windswept: Walking in the footsteps of remarkable women) and Matthew Beaumont (The Walker: On Losing and Finding Yourself in the Modern City) trace the footsteps of walking writers from Dickens and Woolf to Shepherd and Strayed. The session is chaired by the adventurer Phoebe Smith (who will also be interviewing Anne Strathie about her new biography of Herbert Ponting, photographer on Scott's expedition to the Antarctic).
Gail Muller will talk about her 2,200-mile trek along the Appalachian Trail for Unlost — one she embarked on at 41, having been told she would be wheelchair-bound by the age of 40.
Susan Owens, author of Spirit of Place, will talk about how the British landscape has been framed and reimagined by successive generations of artists and writers.
October sees the launch of a new three-year theme for the festival: Read the World. The idea is that "A greater range of international writing will be profiled, offering an incisive guide to key issues on the global stage." Ann Morgan, campaigning blogger and author of Reading the World, will be "literary explorer in residence", with a brief to help expand reading habits and introduce the festival audience to new writers.